Social Media Management Services, Purveyors of the Finest Social Media Aspirin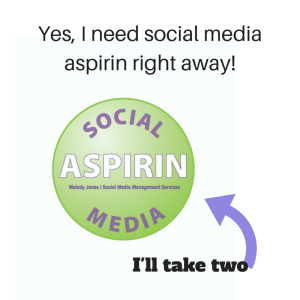 Are you experiencing any or all of these painful social media symptoms?
Frequently overwhelmed with managing your social media
Ongoing confusion about the daily changes in social media
Pounding hashtag headaches
Facebook fever and insta irritations
A sense of loss: time, life, sanity
Heart palpitations whenever confronting a planning calendar
Back pain from too much time on the computer
A need for copious amounts of chocolate just to cope
We can help you reduce or eliminate your social media pain! You just need a little social media aspirin.
If you're looking for…
comprehensive social media management programs designed to skyrocket your success
individual social media coaching
social media workshop or seminar presentations
personalized, responsive service
up-to-date knowledge on all the latest in social media
a bit of humor to round it all out
… you've come to the right place.
---
Welcome message from Social Media Management Services founder Melody Jones, aka the main dispenser of social media aspirin
So glad you found us! I personally love social media, and I love to help others in whatever way suits them best. I can make it so you never have to worry about social media again, or I can teach you what you need to know to manage it yourself without as much stress and headache. Look around, read our stuff, and contact me via the contact tab to find out more or just say hi. I look forward to meeting you.