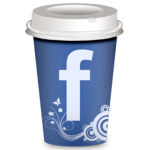 Fan engagement is the key to Facebook success. Number of fans doesn't matter if nobody engages with you. A fantastic landing page doesn't matter if nobody engages with you. Just having a page hanging out there in the Facebook ether world to prove you've written a book or have a fabulous service or product doesn't matter if nobody engages with you.
The most difficult part of social media as a whole is figuring out what your fans will consistently respond to. It's a lot art and a little science with some elbow grease thrown in.
1.  KISS, baby
Adopt this mantra: Keep It Simple and Short. Studies show that fans respond more often to shorter posts. One study found 80 characters to be ideal – which I think is tough to stick to – and a more recent study found 250 characters or fewer to be optimal. That's the "science" – here's the art: you'll have to experiment with varying post lengths and monitor response rate. You'll figure it out if you are consistent. Oh…that's the elbow grease part.
2.  Call to Action
A call to action on Facebook can be as simple as asking for likes and comments in a post. It's amazing how much engagement increases with this easy tactic. "Like this if you read every day like I do!"
Fill in the blank is a useful strategy as well: "My favorite time of day to read is ___________. " "The cupcake flavor I love the most is __________." Pick one that relates to your platform, product, or service in some way, or post one that relates to a current holiday, situation, weather season, celebrity, or news item. Be creative.
Ask questions, but ask them the right way. Keep them short, keep them easy to answer, steer away from yes and no questions, and put the question at the end of the post for the best response rate. Be sure to answer the question yourself, but wait until several fans have added input. Putting yourself into it too soon appears to stifle engagement rates. Another trick: respond to fans by name. "Fran, I agree. Fried okra is not for everybody!"
3.  Variety is the Spice of (Facebook) Life
I'm pretty sure you've noticed the amount of noise happening in your Facebook news feed. How the heck are you going to stand out in the crowd? Remember this – Facebook loves visuals. If you post a beautiful photo, a picture with a funny quote, or a video, fans will interact. Label it in the status field with something short like "Ahhhh, a beautiful vacation spot" or one of my favorites "Bahahahaha" to show how hysterical you think your funny quote is. (Really, my fans LOVE that).  If they don't love it, they might tell you so and that's okay. We call that engagement.
4.  Get in the Zone
80% of the U.S. population lives in the eastern and central time zones; only 4% in my beloved mountain time zone. Study your insights to figure out what time zone the majority of your fans live and post accordingly. A very rough guideline to start with is before work starts at about 7 a.m., around 5 p.m. at the end of the work day, and late evening near 10 p.m. after the kids have gone to bed. Remember, that may be 7 a.m. ET if that's where your fans live – which make it 5 a.m. for MT folks.
In other words, not during the oh-so-convenient standard 9-5 work day. Studies of best post times are all over the board, so you'll be fine-tuning this one to figure it out.
5. Days o' the Week
Certain days see higher engagement rates overall and certain industries get better engagement on specific days. Saturdays show higher engagement across Facebook, and Monday mornings are low as are Friday afternoons. Weekends are active in the entertainment industry, food and beverage on Saturdays, Sundays are best for retail and sports, Wednesday and Thursday for business and finance, and health and beauty on Thursdays. Yeah. It's a mix of art and science to figure this out for your particular widget.
By utilizing these techniques on a consistent basis, your engagement rate should improve. Engaged fans are loyal fans, and loyal fans are customers who see value in your product or service and will PAY you.
Now get out there and KISS, fill in the blank, get spicy, get in the zone, and embrace Saturdays. You'll thank yourself later.