Authors are human. There, I said (wrote) it.
We have feelings. We have the same life stressors everyone else has. We work our butts off.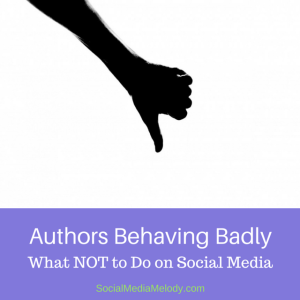 We don't like it when we get negative reviews or comments on our pride and joy, our babies, our very souls also known as our books. It happens, and it happens to even the most popular and well-known authors.
There is more than one case of an author having a highly public meltdown online. The problem with this is that once it's out there, there's no taking it back. I don't care if you delete it, give 97 reasons why you responded the way you did, make well-crafted and well-punctuated excuses, send flowers or a sing-o-gram, or even apologize – the Internet never forgets. Ever. Someone somewhere took a screenshot of your ugly words and posted it again. ON THE INTERNET.
Let me give you an example that happened on Twitter. An author, who shall remain nameless here, received a less-than-glowing review in the Boston Globe of her latest book by a reviewer of some renown, a reviewer with a long and esteemed literary career of her own.
The author didn't tweet one response; she tweeted 27. Here are some of the words she used: "[blankity blank] is a moron." "Now any idiot can be a critic." "If you want to tell [blankity blank] off her phone is _____."
Oh yes, she publicly posted the reviewer's phone number and email address.
Oh my. My, my, my.
This is a perfect example how social media can be misused as a place to vent. That's what BFF's are for, people! Call up your best friend and vent every vile word you can think of. Drink wine. Go out for beer and darts. Take a nap. For the super-healthy types, go for a run, climb a fourteener or eat some tofu. I don't care.
But DO NOT, under any circumstances, respond online to negative reviews or comments.
The end.
That's it. That's my number one bit of advice for authors on what not to do on social media.
Don't be one of those authors that someone like me can easily find online as a bad example for yet another article.
How do you deal with negative comments posted about you online?