I often wonder why we don't do more of what makes us happy. If you love to cook, do more of that. Maybe you love hot air balloons – make it happen. Perhaps what makes you happy is spending an entire day with a good book and some sweet tea, uninterrupted.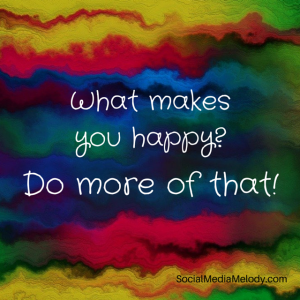 I'm guilty of not doing enough of what makes me happy. I've noticed that when I do make it a priority, it makes whatever else is going on more bearable.
What does this have to do with social media? We can all use social media in pursuit of that happiness. Follow your favorite chef, join an online group of hot air balloon enthusiasts so you can connect with like-minded folks, or join a Facebook book club. Of course you want to do all of these things IRL – In Real Life. What social media can do is enhance your experience by keeping you connected with your passion even when you can't enjoy it in real life at that moment.
What make you happy? Share in comments!