On most Thursday mornings, I host a video chat show on Blab called Blabbing Social with Melody. Of course all discussions are around some aspect of social media, and I have so much fun every time. My primary goal is to help others learn more about how to use social media effectively in business or hobby. I have a guest for every episode because it is, after all, chatting and not just me as a talking head.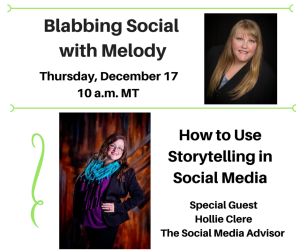 My guest yesterday was Hollie Clere, The Social Media Advisor. Hollie is a story teller in the social media arena, and helps her clients with a wide variety of social media needs. She was such a pleasure to talk to and our discussion revolved around how storytelling is used in social media with a few extra tidbits thrown in about LinkedIn, how to handle comments, and whether there's such a thing as posting too much (hint: there is).
Beginning at the 6:56 mark, she first tells us how storytelling can be a misconception in that many businesses simply tell a dry recitation of Joe CEO established since 1977. What customers really want to know is how to reduce a pain point or how to address some need, and so one's story on social media must revolve around meeting the needs of customers and fans.
Our original time was set for 30 minutes, but we ended up going nearly 50 minutes!
Enjoy.