Today on my Blabbing Social with Melody video chat show on Blab, we learned all about a tool called audioBoom from my fabulous guest Kelly Johnson, founder of Cornerstone Virtual Assistance.
I was particularly excited about this episode as I knew absolutely nothing about this resource. Those who attended our show all signed up for audioBoom because of information shared by my guest!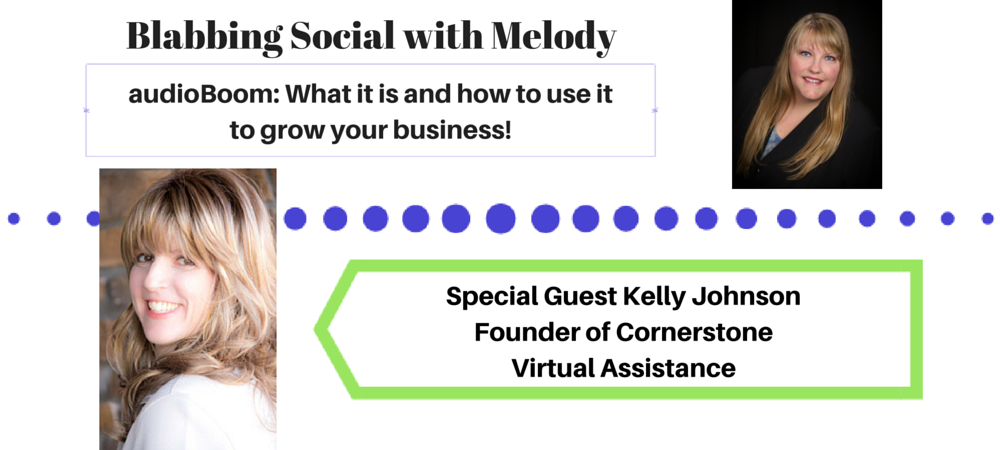 audioBoom is a free social podcasting platform that combines the power of audio with social media and increasing your online presence.
More info and tips:
With each audio clip, you include an image, description, hashtags – you may also include a location if you wish.
You can create playlists in your Audioboom account similar to creating playlists in YouTube for your videos.

Each playlist focuses on specific areas of your business and allows you to have another method for incorporating keywords to help with being found online and with SEO.

You may have your audio clips listed in iTunes as a podcast.
Each audio clip has its own embed code and QR code for posting on your website, blog, and social media.
A few ideas for using Audioboom:

Create a series of audio tips for your target audience.
Authors – create recordings of your characters in your book.

Share events and book signing information and location(s).
Read a paragraph from your book or workbook and ask a question for listeners to post a comment.
As you listen to or watch the show, you'll notice we promised additional information regarding audioBoom analytics. Kelly sent this info:
In each Audioboom clip, it shows how many plays that clip has received.
You can also see how many Likes you have received for each clip.
Thanks for tuning in! You can subscribe to any of my Blabbing Social with Melody shows by following me on Blab.
I host a new show on all Thursday mornings at 10:00 a.m. Mountain time except the second Thursday of the month.
I look forward to you join me for my next one on January 21: What is a Personal Brand and should you have one? with special guest Michelle Hoglan, Owner, Director of Social Media and Partner Management of Top Hat Creative Marketing, LLC.