There are so many live streaming options today in social media that can help take your brand to the next level online.  Periscope, Meerkat, YouTube, and Facebook are great for solo live stream videos.  Blab and Google Hangouts are fabulous platforms for group live streaming.  Each platform has its strengths and unique features, including the main social networks that they seamlessly sync with.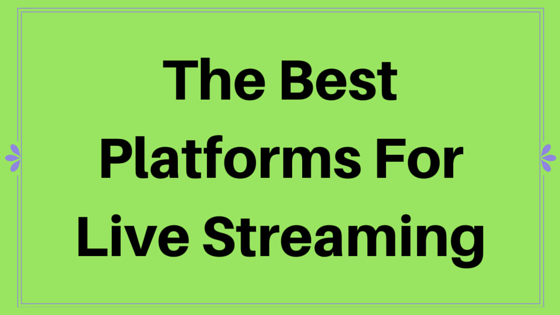 The Best Platforms For Live Streaming
Google Hangouts – Google Hangouts are still a major contender in the world of live streaming.  They have been the reliable choice for years for businesses. When you can find the Google Hangouts page, you are in good shape, but as Google contains so many different apps under their umbrella, sometimes people have difficulty finding Google Hangouts.  Google Hangouts are a great tool because if you are already logged into your google account or Gmail already, you are automatically synced with Hangouts.  Also, you can record Hangouts by going to Hangouts on Air.
YouTube  – YouTube also allows for live streaming, but the ability to do a chat-style video is limited on this platform.  The nice feature, though, is that it is already synced with YouTube, saving you time later to upload and share.  The other nice feature is that since YouTube is owned by Google, the video is already in the 'Google' system, helping improve your search engine rankings (just make sure you tag and label your video properly!).
Periscope – Periscope took charge last spring in a battle against Meerkat for the king of solo live streaming apps.  Twitter owns Periscope and it connects seamlessly with Twitter to help you gain new exposure and followers.  The videos originally posted live on the Periscope app, and then were available to Twitter after the broadcast.  More recently, though, Twitter announced that Periscope videos will now post live to Twitter.
Meerkat – Meerkat came on the scene shortly before Periscope, but the Twitter/Periscope combo allowed Periscope to be the main player in solo live streaming on social media.  Meerkat also makes it easy to follow and connect with other social media accounts on Twitter, but has not stayed ahead of Periscope as the months pass.
Blab – As users embraced the ability to easily live stream with apps like Periscope and Meerkat, there was a significant need for the ability to live stream with a group of people.  Blab came on the scene and solved that problem.  Blab allows up to four people to live stream together, as well as sync with Twitter to help you gain new followers.  Blab also has a live chat window for speakers and viewers to interact together as well. The overall ease of use makes Blab a favorite among businesses who want to make live shows.
Facebook – Facebook Live has been around for many months to celebrities and influencers.  However, the new feature recently was released to all Facebook iPhone users.  It's as easy as pushing one button within your Facebook app.
Well, that's great, but now you're probably feeling a bit overwhelmed.  There is no way you can live stream video on ALL of the platforms we listed above!  So, how do you choose?
First, make note of where your audience is located.  If your audience is all on Twitter, then make sure you're using platforms that focus on Twitter syncing.  If your audience is all connected to you on Facebook, then make sure you focus your efforts there.  If all you care about is search rankings, then live stream accordingly.  Another main consideration for choosing a live stream platform is the ease of use.  The newer players like Blab, Periscope, and Facebook are all easy peasy, and that makes it more appealing to use by all!
Regardless of the live streaming channel you choose, make sure you are including video in your 2016 content marketing strategy!  You'll be pleasantly surprised to see the increase in engagement, interaction, and influence your brand receives!
Guest post by Valerie Morris
Just try keeping up with Valerie!  As an avid reader and lover of learning, she admits that her brain rarely shuts off!  Valerie founded and manages Tintero Creative, a content marketing firm that is bringing a comprehensive approach to brands online.  Valerie understands that
your online presence is so much more than just  social media today, and that is precisely why her and her team invest time and energy into quality copywriting, blogging, SEO strategies, social media advertising, website design, branding, and of course, social media management.  They know that all of these pieces interact and build off of each other and love providing dynamic results for their clients.
While Valerie loves learning new things in the world of digital, she also can be found digging in the dirt.  A recent convert to the country lifestyle, she can be found working on her veggie garden, driving a tractor, or working in the barn.  She also loves running with her pups and doing Pinterest DIY projects.  All of which she documents in a micro-view on Instagram.