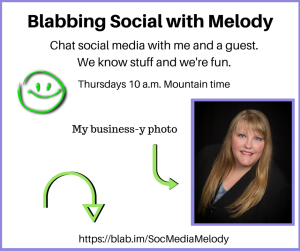 Have you noticed that your posts on LinkedIn are getting fewer views? In this episode of Blabbing Social with Melody, my guest Rebecca Barth shares great tips on how to get more eyes on your posts and even how to up the odds you'll be a featured post on LinkedIn Pulse.
Watch our Blab session below. I learned something new about LinkedIn posts myself!

Key points:
Learn the difference between a LinkedIn status update and a LinkedIn post
Rebecca's experience with diminishing views of LinkedIn posts and why this may be happening
Why formatting your LinkedIn post correctly makes a huge difference to LinkedIn
How to increase the odds of your post getting featured on LinkedIn Pulse
Are you experiencing a decrease in views of your LinkedIn posts? What other tips would you add? Post in comments!
Thanks for visiting! I host Blabbing Social with Melody every Thursday morning (except the second week of the month) at 10:00 a.m. Mountain time. I always have interesting and knowledgeable guests, so tune in! Here's my Blab profile. Also, let's connect on LinkedIn.