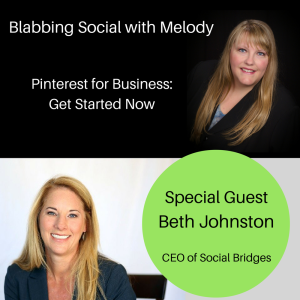 If you're not on Pinterest, you're missing a big opportunity to reach fans who are interested in your subject or product.
On Blabbing Social with Melody, I was fortunate to host a fantastic guest, Beth Johnston, CEO of Social Bridges.
Beth really knows her stuff about Pinterest for businesses and teaches this subject frequently in the Denver Metro area.
To watch our fun and informative Blab show, just click the video below. (Yes, I do talk too fast – it's true. I just can't seem to slow it down!)
I've also summarized our talk below the video in a few bullet points.
Why ANY business can use Pinterest as a marketing tool
Pins are easily rediscovered on Pinterest unlike other social platforms
Graphics must be visually appealing for most interaction
What makes Pinterest"social" though some see it as a bookmarking site
Pinterest business account vs. personal account- it's all about analytics and advertising
Details you need to know about analytics
Men DO use Pinterest!
Up to twice as many users access Pinterest from mobile vs. desktop
Why you must verify your website (get your web person to do it)
The difference between place pins, promoted pins and rich pins
Thanks for visiting Social Media Management Services!
Melody Jones is your social media aspirin. She helps take the pain out of social media for you! Check out her services and see which one can reduce your social media pain the most.