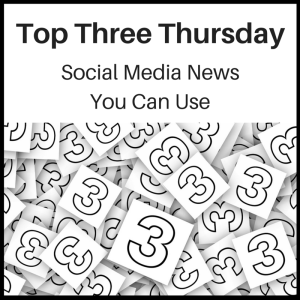 Welcome to my Thursday feature. Here's where I link three useful and interesting articles from excellent information sources that deal with social media and marketing subjects.
As you know, changes are always happening in the world of social media. We have a lot to keep up with!
You keep hearing about Snapchat and how it's making waves in social media. However, maybe you could still use some inspiration in order to dive into the platform and make your own waves. Inc. posted this 25 Snapchat Influencers Who Are Doing It Right to fill that very need!
If you thought Facebook was content with just being the most popular social media platform, think again. This Gizmodo video of Mark Zuckerberg laying out the company's 10 year plans at the recent F8 conference is both interesting and really, really cool.
While there has been a lot of new Facebook changes lately, Instagram is sliding in under the radar with a new feature as well. Instagram's website actually becomes useful with new notification tab is keeping the site in the news on pages like Mashable.
See you next week with another edition of Top Three Thursday: Social News You Can Use.
Melody Jones is your social media aspirin. She helps take the pain out of social media for you! Check out her services and see which one can reduce your social media pain the most.