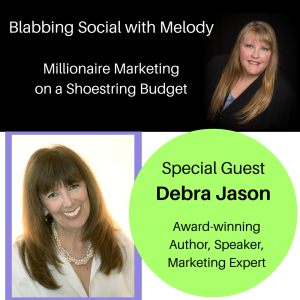 Don't have a million dollars for your marketing budget? I understand and so does author Debra Jason. She wrote Millionaire Marketing on a Shoestring Budget just for folks who need to up their marketing game while keeping budget in mind.
Debra agreed to share her many years of marketing wisdom with me on my live streaming show Blabbing Social with Melody. Boy did she deliver! She shared a number of useful tips and insights with our audience.
I encourage you to watch our show embedded below. I've also included bullet points summarizing our discussion on marketing for people without a million bucks.

Why embracing change is Debra's first chapter and something entrepreneurs must do to move forward
"Your net worth is determined by the size of your network."
The two key elements in marketing that you must have to be successful
The most fun way to market yourself
How to get free publicity
Partnerships: how do they help with marketing?
Thanks for visiting Social Media Management Services!
Melody Jones is your social media aspirin. She helps take the pain out of social media for you! Check out her services and see which one can reduce your social media pain the most.