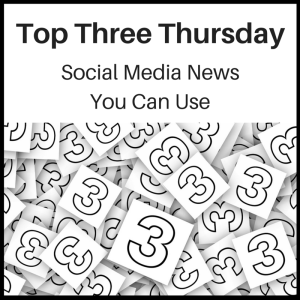 Welcome to my Thursday feature. Here's where I link three useful and interesting articles from excellent information sources all about social media and marketing subjects.
As you know, changes are always happening in the world of social media. We have a lot to keep up with!
Using the 10 Laws of Social Media Marketing from Entrepreneur.com will help you immensely.  Susan Gunelius writes on limiting yourself to what you determine is most important in using social media and building your company.  You might be in for the long haul to get the audience size you desire, so work with perseverance. Use networking through social media to find the people who can both educate you and who can join forces with you to share and share alike. Don't forget to publicly and privately thank and praise your network.
We keep talking about Snapchat but that's because they keep making the news! According to Social Media Today, Snapchat is Now Serving 10 Billion Video Views Per Day! There is plenty of speculation about what the popularity of this app among the younger demographic could mean for social media and business. Check out the article to find out more about the recent statistics behind the Ghostface.
What's the latest move from our friends at Twitter? Well, looks like the website is hoping to promote more connections from its accounts. Twitter Launches Connect Tab to Help You Discover New Accounts and Content posted by We Are Social Media reports on the recent changes our favorite bird has made and what that might mean for companies depending on Twitter engagement.
See you next week with another edition of Top Three Thursday: Social News You Can Use.
Melody Jones is your social media aspirin. She helps take the pain out of social media for you! Check out her services and see which one can reduce your social media pain the most.