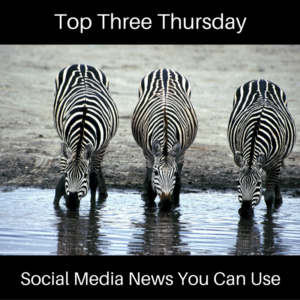 Welcome to my Thursday feature. Here's where I link three useful and interesting articles from excellent information sources all about social media and marketing subjects.
As you know, changes are always happening in the world of social media. We have a lot to keep up with!
Even people who think they have a handle on social media might be surprised to discover that they cause the occasional faux pas. In fact, Forbes put together this list of the 4 Social Media Mistakes You Are Unknowingly Making. Are you making any of these errors in your social feeds?
Instagram is a rising social media star right these days. Now AdWeek is saying there is an Instagram Code that Reveals 4 Potential New Features. The most exciting might be the opportunity to boost posts within the platform. Go forth, read, and speculate!
Snapchat just will not slow down with its fun new features. You can now add stickers to your Snapchat snaps, according to CBS News. These colorful and fun stickers can be added to your individual snaps and stories and closely resemble the Facebook Messenger sticker options. Super fun!
See you next week with another edition of Top Three Thursday: Social News You Can Use.
Melody Jones is your social media aspirin. She helps take the pain out of social media for you! Check out her services and see which one can reduce your social media pain the most.