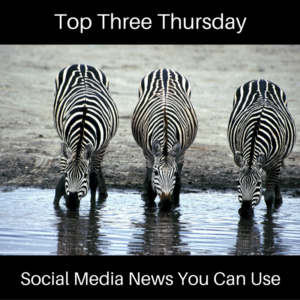 Welcome to my Thursday feature. Here's where I link three useful and interesting articles from excellent information sources all about social media and marketing subjects.
As you know, changes are always happening in the world of social media. We have a lot to keep up with!
Interested in using Facebook Live but not sure how to do it? Kim Garst at Boom Social takes us step-by-step through the process in How to Do Your First Facebook Live Broadcast. There's a great checklist at the end of the article that may help keep you on track.
Do you tweet from your Android phone? Andrew Hutchinson from Social Media Today gives us the scoop on the updated Twitter App in the article: Twitter Unveils New Look for Android. By making the App more responsive and user-friendly, this is a great step in the right direction. What do you think about the new changes?
Are you a podcaster? In Podcast Promotion: 7 Smart Ways to Improve Your Social Sharing, Peg Fitzpatrick takes us through the process and offers up amazing side tips and tools of the trade that can help no matter your experience level.
See you next week with another edition of Top Three Thursday: Social News You Can Use.
Melody Jones is your social media aspirin. She helps take the pain out of social media for you! Check out her services and see which one can reduce your social media pain the most.