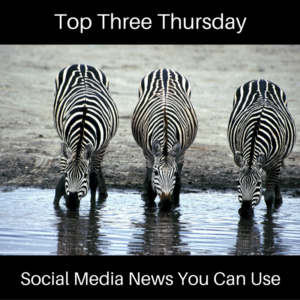 Welcome to my Thursday feature. Here's where I link three useful and interesting articles from excellent information sources all about social media and marketing subjects.
As you know, changes are always happening in the world of social media. We have a lot to keep up with!
Have you been frustrated with the 20% text rule in Facebook ads? Luckily, that's changing and Jon Loomer breaks down the new Facebook Text Rule. If you've already attempted to use the new guidelines and have hit a few walls, make sure you check out the comments for workable solutions while the new program faces its growing pains.
Do you use Snapchat? Changes to the Discover and Stories pages makes the user experience more attractive. Josh Constine at TechCrunch.com tells us more in "Snapchat Uncovers Discover".
Periscope is lending support for community meetups in real life. They will have an events page, send out party invites and more! Filling out the form is simple, and they offer several suggestions for nice meet-up options. Read "Let's All Hangout IRL!" at Medium for more.
See you next week with another edition of Top Three Thursday: Social News You Can Use.
Melody Jones is your social media aspirin. She helps take the pain out of social media for you! Check out her services and see which one can reduce your social media pain the most.