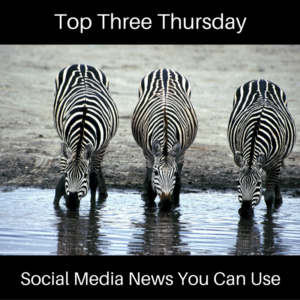 Welcome to my Thursday feature. Here's where I link three useful and interesting articles from excellent information sources all about social media and marketing subjects.
As you know, changes are always happening in the world of social media. We have a lot to keep up with!
Exciting changes in Twitter this week! Did you know that Twitter Video has extended their video length to 140 seconds? Kellen Beck from Mashable has the scoop and more in "Twitter Supports 140-Second Videos, Coming Soon to Vine".
Tumblr sent out a teaser on Monday that left most of us wondering if they were going to create a video streaming service like Twitter's Periscope or Facebook Live. Thankfully, that isn't the case, but they are partnering with some exciting video services. David Cohen at Social Times fills us in on the details in his article, "Tumblr Partners with YouNow, YouTube, Kanvas, [and] Upclose on Live Video".
Questions are still pouring in on Facebook Live. There's no doubt some companies have launched into overnight super-stardom with their accounts. If you want to jump in and give it a try, Social Media Today provides us "Five Best Practices for Using Facebook Live".
See you next week with another edition of Top Three Thursday: Social News You Can Use.
Melody Jones is your social media aspirin. She helps take the pain out of social media for you! Check out her services and see which one can reduce your social media pain the most.