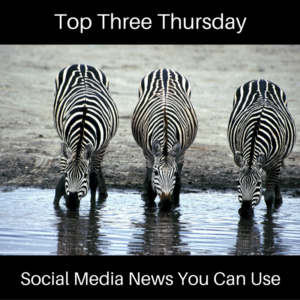 Welcome to my Thursday feature. Here's where I link three useful and interesting articles from excellent information sources all about social media and marketing subjects.
As you know, changes are always happening in the world of social media. We have a lot to keep up with!
Have you been neglecting your LinkedIn Profile? Jeremy Goldman brings us some fantastic tips in "6 Ways Content Marketers Can Supercharge Their LinkedIn Profiles." Whether you're a longtime user or new to the site, you should definitely compare your profile to his checklist.
Instagram's new updates to their desktop feature is a game-changer that no longer limits your interaction to a mobile device. Sue B. Zimmerman has the scoop and a great video tutorial in "How to Use Instagram on Your Computer." She also has a fantastic Instagram strategy guide she's offering for free, so make sure you check it out.
Pinterest is changing the way they do business by allowing you to do your shopping through their new suite of tools. These new features aren't live yet, but they'll be releasing in the coming months. Mashable got an inside sneak peek of the "Shopping with Pinterest" tools, and Samantha Murphy Kelly tells us more in "Finding Things to Buy on Pinterest is About to Get a Lot Easier."
See you next week with another edition of Top Three Thursday: Social News You Can Use.
Melody Jones is your social media aspirin. She helps take the pain out of social media for you! Check out her services and see which one can reduce your social media pain the most.