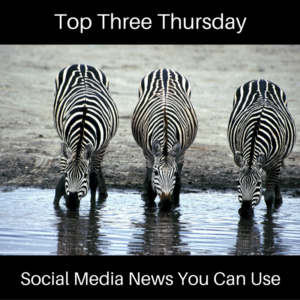 Welcome to my Thursday feature. Here's where I link three useful and interesting articles from excellent information sources all about social media and marketing subjects.
As you know, changes are always happening in the world of social media. We have a lot to keep up with!
We've been talking about video a lot lately since most of our favorite social networks are expanding options in that area. If you want to get into making videos but aren't sure how you could apply it to your business, Social Media Examiner has you covered in "26 Ways to Use Video for Your Social Media Marketing." This article even has a breakdown of video lengths based on the platform so make sure you bookmark it for future reference.
If you're a podcaster or have considered being one, Jay Baer, the President of Convince & Convert, created a list called "The 5 Key 2016 Podcast Statistics." The age range of those who listen may surprise you, and with an increase of 26% in listeners between 2015 and now, podcasts may be a great way to reach a new group of potential clients and customers. At the end of the article, there's a link to the Infinite Dial study which lists fascinating statistics about your favorite social media sites.
Did you know that "Facebook Can Now Translate Your Posts into Other Languages"? Karissa Bell at Mashable gives us the rundown on this new AI-powered tool that lets you post simultaneously in multiple languages. It's a desktop-only feature for now, but the test phase is gaining popularity among users. Page owners have access already, so definitely check out this article to learn more.
See you next week with another edition of Top Three Thursday: Social News You Can Use.
Melody Jones is your social media aspirin. She helps take the pain out of social media for you! Check out her services and see which one can reduce your social media pain the most.