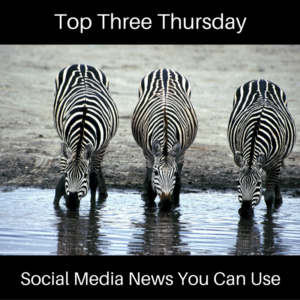 Welcome to my Thursday feature. Here's where I link three useful and interesting articles from excellent information sources all about social media and marketing subjects.
As you know, changes are always happening in the world of social media. We have a lot to keep up with!
Snapchat is changing the way they do business. Christopher Heine from Adweek.com tells us that "Snapchat Just Revealed a New Feature Called 'Memories' That Saves Snaps." It's a collage-like function that allows users to save posts—still photos or videos—and edit them for use in a story collage. They'll be rolling it out selectively over the next month or so. With over 150 million daily users, a staggered release makes sense.
Are you having trouble with engagement and positive responses to your LinkedIn profile? There may be a reason. Melonie Dodaro from Top Dog Social Media fills us in on the "5 Things You Should Avoid Posting on LinkedIn." She goes on to list four types of posts that can help you stand out and improve engagement.
Have you noticed a change to your Facebook page layout? "Facebook is now Testing a New, Ad-Free Desktop Page Layout" to align with their mobile page re-design they released last September. Social Media Today showcases the new format which separates the profile picture from the cover photo, and makes the call to action button clearer. Two new formats are being tested. Which variation do you prefer?
See you next week with another edition of Top Three Thursday: Social News You Can Use.
Melody Jones is your social media aspirin. She helps take the pain out of social media for you! Check out her services and see which one can reduce your social media pain the most.