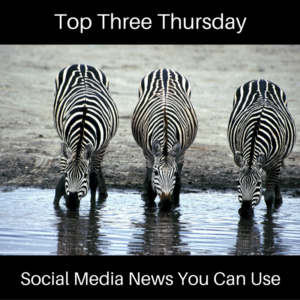 Welcome to my Thursday feature. Here's where I link three useful and interesting articles from excellent information sources all about social media and marketing subjects.
As you know, changes are always happening in the world of social media. We have a lot to keep up with!
Facebook Live has really exploded in use and popularity. However, many users still say that it doesn't have the quality or features of other live broadcasting tools. Mashable is reporting that the platform has made some new updates for improvement purposes. Check out Facebook's live video can now be twice as long to read up on the changes.
Have you been itching to jump onto the Snapchat bandwagon but just can't seem to generate a following? Hootsuite has put together No Snapchat Friends? This Feature Can Help that should work wonders for you! This new feature could be the gem that has followers scrambling to view your snaps.
There are tons of tools out there to help business owners curate, create and schedule their social media content. One of the most popular ones for creating quick and simple graphics is Canva. Social #PR Chat is excited to report on the tool's new iPhone feature in their post: My @Canva Addiction: Now on iPhone. Now users can put together amazing visuals while on the go and post them to their social channels.
See you next week with another edition of Top Three Thursday: Social News You Can Use.
Melody Jones is your social media aspirin. She helps take the pain out of social media for you! Check out her services and see which one can reduce your social media pain the most.