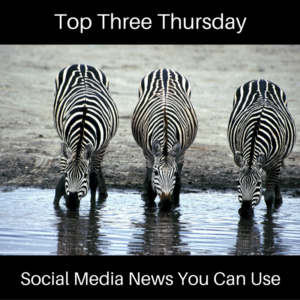 Welcome to my Thursday feature. Here's where I link three useful and interesting articles from excellent information sources all about social media and marketing subjects.
As you know, changes are always happening in the world of social media. We have a lot to keep up with!
Did you know that a majority of the search queries for Google and Bing take place via voice on mobile? Is your site geared for it? If not, Michael Georgiou from Convince and Convert has "4 Tips for Creating Voice Search-Friendly Web Content." If you aren't incorporating mobile into your social media strategy, it's time to start.
Facebook Live has made changes to its live broadcast. It will now support full-screen broadcasts and has doubled the maximum time to four hours (it was two hours previously). If you want to know more about their new features, Karissa Bell has the scoop in "Facebook Live Now Features Longer Videos and Fullscreen Broadcasts" on Mashable.com.
Have you heard of Canva? Canva.com is leading the way as a content design tool that uses a combination of images and text. It's free and easy to use, but best of all, it's now available on iPhone. Donna Moritz of SociallySorted.com.au has the complete app breakdown in "Canva for iPhone – Design Like a Boss Wherever You Are." Android users, never fear, Canva is working hard on an Android version!
See you next week with another edition of Top Three Thursday: Social News You Can Use.
Melody Jones is your social media aspirin. She helps take the pain out of social media for you! Check out her services and see which one can reduce your social media pain the most.