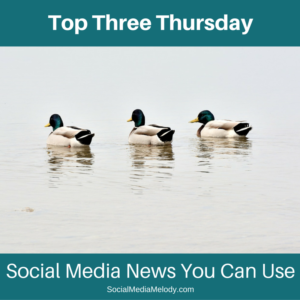 Welcome to my Thursday feature. Here's where I link three useful and interesting articles from excellent information sources all about social media and marketing subjects.
As you know, changes are always happening in the world of social media. We have a lot to keep up with!
LinkedIn is diving into the video marketing arena. On Tuesday, the social media site opened up the 30-second video option to more than 500 influencers. David Cohen from Adweek.com has the scoop in "LinkedIn Allows Influencers to Create 30-Second Videos".
This one is for the Instagram users. Have you seen the 'Instagram Stories' feature yet? You should definitely check out "Instagram Launches New Feature That's Exactly Like Snapchat Stories". Andrew Hutchinson from Social Media Today gives you the reasons behind the bold move and offers a step-by-step guide on setting one up yourself.
In the past few months we've watched multiple social media sites move to video options for marketing. Don't let videos intimidate you. They don't have to be a large and expensive production. I scoured the 'net for a great starting guide on making short videos, and I think I found it! Donna Moritz from Socially Sorted shares "5 Ways to Get Started with Short Video, even if it Freaks You Out". What do you think of this push for video marketing? Let us know in the comments!
See you next week with another edition of Top Three Thursday: Social News You Can Use.
Melody Jones is your social media aspirin. She helps take the pain out of social media for you! Check out her services and see which one can reduce your social media pain the most.