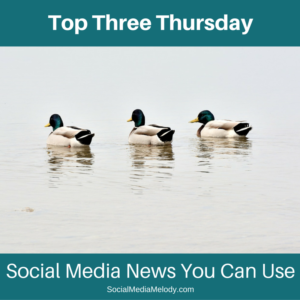 Welcome to my Thursday feature. Here's where I link three useful and interesting articles from excellent information sources all about social media and marketing subjects.
As you know, changes are always happening in the world of social media. We have a lot to keep up with!
Not sure how Instagram Stories fit in your marketing plan? Instagram expert Sue B. Zimmerman has you covered with her "Instagram Stories Tutorial for Business." She provides a free training video and some fantastic best practice tips. If you're new to Instagram she also offers a free strategy guide at the end of the post.
Have you heard of Twitter Moments? Twitter Moments are collections of tweets that follow a specific news story and other conversations of interest in the Twitter community. Twitter and a few influencers have used it in the past, but they'll soon be opening up the floor to everyone. Karisa Bell from Mashable has all the details in "Twitter Will Soon Open Up Moments to All Users." Since Mashable is one of the influencers who has used Twitter Moments, we'll be keeping our eyes on their blog for a tutorial once it goes live for everyone. Stay tuned.
Sometimes it feels like we're shouting in the dark when it comes to social media, and this can allow us to become lax in our content and response times. It's important to develop a bond of trust between you and future clients/customers, but how do you do that? Lauren Smith from Convince and Convert provides us with a timely and helpful article on "How to Use Social Media to Build Brand Trust."
See you next week with another edition of Top Three Thursday: Social News You Can Use.
Melody Jones is your social media aspirin. She helps take the pain out of social media for you! Check out her services and see which one can reduce your social media pain the most.