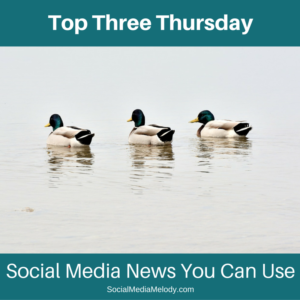 Welcome to my Thursday feature. Here's where I link three useful and interesting articles from excellent information sources all about social media and marketing subjects.
As you know, changes are always happening in the world of social media. We have a lot to keep up with!
Facebook is making changes again. This time, they're focusing on the video platform. Ariel Bogle from Mashable.com warns "Grab Your Headphones: Facebook is Testing Video with Autoplay Sound". This is very important for mobile users and those who tend to go through Social Media while multitasking on other projects. There are ways to prevent sound from playing, so make sure you follow Ariel's suggestions.
Are you a Snapchat user? If so, David Cohen from Adweek.com has a great article on the latest updates in "Snapchat Makes On-Demand Geofilters More Accessible with Templates, New Features". Some of the biggest changes involve customization of snaps in both text and colorization. David has great snap examples highlighting each change.
Twitter is making changes with their video ad options. According to Andrew Hutchinson's article: "Twitter Announces New Monetization Options for Video Creators", big changes are on the way for both Vine and Twitter. The SocialMediaToday.com article highlights Twitter's 5-point plan to reinvigorate their platform. Surprisingly, the new incentive program surpasses YouTube's rates. The most intriguing aspect is their Media Studio, which replaces video.twitter.com. I'm very interested in diving into the new tools and functions. What about you?
See you next week with another edition of Top Three Thursday: Social News You Can Use.
Melody Jones is your social media aspirin. She helps take the pain out of social media for you! Check out her services and see which one can reduce your social media pain the most.