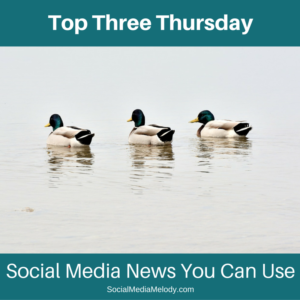 Welcome to my Thursday feature. Here's where I link three useful and interesting articles from excellent information sources all about social media and marketing subjects.
As you know, changes are always happening in the world of social media. We have a lot to keep up with!
Ever wish you had a social media checklist? Peg Fitzpatrick has a list put together by guest writer Michael Patterson of Sprout Social. He provides us with "Your Complete Social Media Checklist." It's thorough and easy to adapt to your business needs. Make sure you check it out!
Are you hooked up in LinkedIn? Like all social media platforms, we want to make the most of our time when we visit. Viveka von Rosen from SocialMediaExaminer.com provides us with "6 LinkedIn Browser Extensions to Enhance Your Marketing."Each option is time-saving and intuitive. Viveka provides great visual aids to help you work through the extensions.
Visual Marketing is a valuable way to gain customers and clients. Powerful imagery and brand identity have become more important than ever, and the move to video marketing is proving it. If creating a video makes you nervous, how about a slideshow? Facebook and Instagram now allow you to use pictures in slideshow form. Melonie Dodaro of Top Dog Social Media provides us with a wonderful and free option for graphics creation in "Visual Marketing: How to Use the Canva iPhone App." It's a handy program and I'm thrilled to see them expand into the mobile market.
See you next week with another edition of Top Three Thursday: Social News You Can Use.
Melody Jones is your social media aspirin. She helps take the pain out of social media for you! Check out her services and see which one can reduce your social media pain the most.