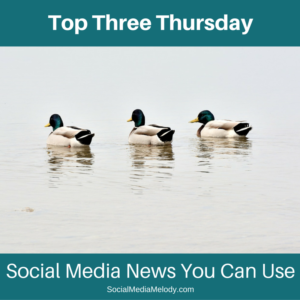 Welcome to my Thursday feature. Here's where I link three useful and interesting articles from excellent information sources all about social media and marketing subjects.
As you know, changes are always happening in the world of social media. We have a lot to keep up with!
Social media has past the point of simply being a hobby and is now a standard for business. Proof of that is how social is impacting our companies. Mashable lists some of these impacts in their latest, "5 Powerful Ways Social Media Has Forever Altered The Way We Do Business." How many of them have already affected the way you work?
Facebook, with its 50 million+ business pages, seems to know what it takes to keep being successful. Now Facebook Is Wooing Small Businesses in order to increase the popularity of its advertising platform since only 3 million of those business pages are currently paying for ads. Forbes is predicting that Facebook ads will be one of the next avenues of growth for this social media standout.
Sounds like Twitter is looking to get into the live video market in a big way by launching apps to stream video on TV. CNBC reported that the company is introducing new live streaming video apps for Apple, Xbox, and Amazon – incorporating NFL games into their offerings. This is quite the switch from the social platform's branding so watching where the site goes next should be interesting.
See you next week with another edition of Top Three Thursday: Social News You Can Use.
Melody Jones is your social media aspirin. She helps take the pain out of social media for you! Check out her services and see which one can reduce your social media pain the most.