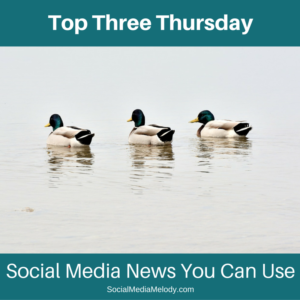 Welcome to my Thursday feature. Here's where I link three useful and interesting articles from excellent information sources all about social media and marketing subjects.
As you know, changes are always happening in the world of social media. We have a lot to keep up with!
Facebook has now positioned itself as an asset for companies by launching Facebook At Work. USA Today hands us some insight on this new resource in their article: Coming soon to a cubicle near you: Facebook At Work. This added revenue stream for the social media platform hopes to improve communications for all size businesses.
First it was Snapchat and then it was Instagram and now Twitter Wants You to Create Your Own 'Moments'. Fortune Magazine is reporting on this option they first announced last October for curating tweets by subject. They have already begun rolling out this feature to all Twitter.
For tweens, finding access to social media has been tough. Legally, they aren't even supposed to be using the major social platforms until they are at least 13 years of age. The Boston Globe reports that someone has designed A Social Media Network All Their Own that adheres to the legal requirements for minors using social media.
See you next week with another edition of Top Three Thursday: Social News You Can Use.
Melody Jones is your social media aspirin. She helps take the pain out of social media for you! Check out her services and see which one can reduce your social media pain the most.