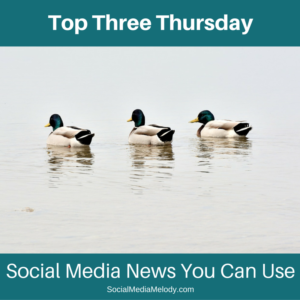 Welcome to my Thursday feature. Here's where I link three useful and interesting articles from excellent information sources all about social media and marketing subjects.
As you know, changes are always happening in the world of social media. We have a lot to keep up with!
We all know that Facebook is tracking all of our private details by examining the choices we make within the social platform. However, computer data is only so accurate. This article from Quartz looks into how Facebook is interpreting your likes a bit too literally. This data completely skews what the ads show users and could be important for companies purchasing ads within the site.
If you are a B2B professional, LinkedIn still remains one of the best social platforms for a variety of reasons. Social Media Today reports the 3 Things Small Business Must Do to Succeed on LinkedIn. The network has changed a lot, and will keep doing so, making it important to understand the details that truly work for this site.
Do you need more leads? Are you using Snapchat? As great as Snapchat is for engaging with people, it also has the potential to deliver viable leads. Social Media Examiner showcases why Snapchat is a viable platform with its posts: 5 Ways to Generate Leads From Snapchat. These tactics for generating leads will have you increasing your follower base in no time.
See you next week with another edition of Top Three Thursday: Social News You Can Use.
Melody Jones is your social media aspirin. She helps take the pain out of social media for you! Check out her services and see which one can reduce your social media pain the most.