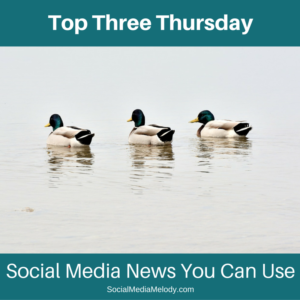 Welcome to my Thursday feature. Here's where I link three useful and interesting articles from excellent information sources all about social media and marketing subjects.
As you know, changes are always happening in the world of social media. We have a lot to keep up with!
LinkedIn made a smart move last year when they invested in mobile optimization for their platform. In fact, a majority of users are utilizing the site on their phones now. Social Media Today covers new changes in LinkedIn Adds Tools to Help Personalize Your Feed, Save Links for Later as the social media app continues to improve their mobile features.
Do you want to build deeper relationships with your Twitter followers? Looking for easy ways to create loyal fans on the site? To reap the full benefits of Twitter, you need to approach your engagement in a personable way. The Social Media Examiner gives you Five Tips to Build More Loyalty With Your Twitter Fans.
A Business to Business (or B2B) brand faces different challenges than those that market directly to consumers. However, 76% of B2B companies are already on social media. They are investing more in social than ever before but how does a B2B brand remain relevant and interesting? Convince and Convert gives us 5 Ways B2B Brands Can Kill It With Content Marketing.
See you next week with another edition of Top Three Thursday: Social News You Can Use.
Melody Jones is your social media aspirin. She helps take the pain out of social media for you! Check out her services and see which one can reduce your social media pain the most.