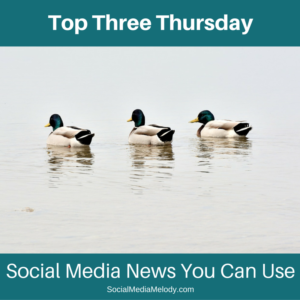 Welcome to my Thursday feature. Here's where I link three useful and interesting articles from excellent information sources all about social media and marketing subjects.
As you know, changes are always happening in the world of social media. We have a lot to keep up with!
Twitter has long been a great tool for businesses. It is a way to promote your company and allows you to really connect with your customers on a personal level. However, it can be hard to increase your number of followers and get those tweets seen. Sprout Social put together this user-friendly article, 8 Easy-To-Follow: Twitter Hacks to Get Your Tweets Seen, that will help increase your online presence.
Snapchat is increasing in size substantially and reaching far more than just the under-18 demographic now. It is estimated that by 2020 Snapchat will add twice as many new followers than Pinterest and Twitter. Even with these statistics, only about 5% of businesses actually use this platform for their marketing. If you are not sure if Snapchat would be a good fit for your business or how to use it, check out this infographic Snapchat 101: What Brands Need to Know created by Social Media Today to get you started.
With all the change happening in today's popular social media platforms, it can he tricky to keep up with. Instagram has made a load of changes lately, including offering business accounts, stories and advertising. Which makes you wonder – do you really need to be advertising on this site as well? Sue Zimmerman covers the answer to this question in her latest blog post: How To Get Started With Instagram Ads.
See you next week with another edition of Top Three Thursday: Social News You Can Use.
Melody Jones is your social media aspirin. She helps take the pain out of social media for you! Check out her services and see which one can reduce your social media pain the most.