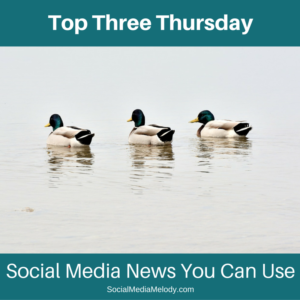 Welcome to my Thursday feature. Here's where I link three useful and interesting articles from excellent information sources all about social media and marketing subjects.
As you know, changes are always happening in the world of social media. We have a lot to keep up with!
Facebook Messenger now supports PayPal payments as reported by TechCrunch. You are able to directly send and receive PayPal payments through the Messenger app itself. This feature is being offered to U.S. users by the end of the year, but with no given date for when international integration will be introduced. Additionally, U.S. users will also be able to keep track of their transactions and receipts through the Messenger app as well.
Business Insider is shining a light on how Pinterest is poised to become a major social commerce platform. They recently hit an important milestone of 150 million active monthly users with more than half (80 million) of those users overseas. Although Pinterest was primarily used by women, men are now making up about 40% of new signups. This is diversifying the audience and will broaden the type of retailers and advertisers who use Pinterest to build their business. Currently 1 million businesses are using this platform with more than 10 million products for purchase. Nearly 75% of users have also bought a product that they have seen on Pinterest, making this a highly successful tool for selling products online. As Pinterest continues to build momentum, it is estimated that social commerce will rise as well.
In Huffington Post's recent article, 3 Ways to Boost Your Business' Engagement on Social Media, they explain how to engage more with your audience. By using some of these tricks of the trade on social media, you can boost your customer's interest, without costing you a dime. These platforms can be leveraged for your advantage by careful strategy and a little extra effort.
See you next week with another edition of Top Three Thursday: Social News You Can Use.
Melody Jones is your social media aspirin. She helps take the pain out of social media for you! Check out her services and see which one can reduce your social media pain the most.