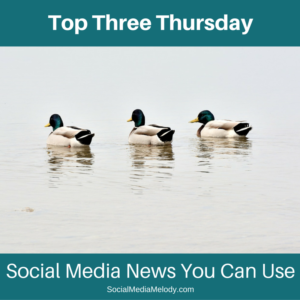 Welcome to my Thursday feature. Here's where I link three useful and interesting articles from excellent information sources all about social media and marketing subjects.
As you know, changes are always happening in the world of social media. We have a lot to keep up with!
Instagram has announced that Shopping Is Coming to Instagram. The site recently announced a new mobile commerce test in the U.S. They are using a group of 20 well known retailers as their test group to provide a more in depth interaction with their customers. A "tap to view" button is added to the retailers photo which then allows the viewer to see the brand and cost of an item and offer a way to buy those products. Instagram's hope is to eventually extend this new feature to other companies down the line.
Twitter Adds New DM Tools for Brands as a new feature for businesses in their direct messaging options. PC Magazine tells us that businesses can now set up automated direct messages to their followers. These new options offer Welcome Messages and Quick Replies to interact with their customers and initiate communication without having to rely on the followers to do so first. Twitter estimates that when a customer interacts with the business directly, they are more willing to spend between 3-20% more in products and services in the future.
Pinterest Adds Three New Types of Promoted Pins to advertisers on the popular social platform, according to Social Times. There are three new options, video pins, one-tap pins, and app pins. Social Times explains the purpose of each of these new features in the article. In the past, Promoted Pins have only been offered in the U.S., but have now been extended to the U.K. Pinterest hopes to extend to other countries in the near future. This will broaden advertising options for businesses and make their content easier for their audience to view.
See you next week with another edition of Top Three Thursday: Social News You Can Use.
Melody Jones is your social media aspirin. She helps take the pain out of social media for you! Check out her services and see which one can reduce your social media pain the most.