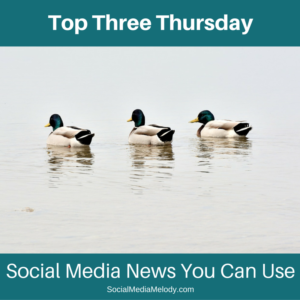 Welcome to my Thursday feature. Here's where I link three useful and interesting articles from excellent information sources all about social media and marketing subjects.
As you know, changes are always happening in the world of social media. We have a lot to keep up with!
Facebook released a new report on Millennials and brand loyalty. It is estimated that 77% of Millennials remain loyal to a brand, but only 37% of those customers will become repeat buyers. The article is titled "Modern Loyalty: Love in a Time of Infinite Choice" and describes what causes this generation of consumers to remain loyal to a brand or move onto another company. Understanding your customer is crucial in sustaining your business.
LinkedIn made some updates to their "Endorsements" feature on their platform. Endorsements are helpful in finding a new job as well as in aiding employers in hiring a new employee. In one of LinkedIn's recent articles "Expert Tips for Making Skills on Your LinkedIn Profile Stand Out", they explain how to use this feature to its full potential and improve your LinkedIn profile.
In Mashable's recent article "Everything Your Small Business Needs to Know About the Evolving World of Marketing" they outline some very helpful attributes of a healthy marketing strategy. Topics range from how to engage with your audience on their level to seeking advice from experienced mentors. The article is full of instructional videos outlining these strategies. These words of wisdom are sure to motivate and inspire you as you curate, create and schedule your social media.
See you next week with another edition of Top Three Thursday: Social News You Can Use.
Melody Jones is your social media aspirin. She helps take the pain out of social media for you! Check out her services and see which one can reduce your social media pain the most.