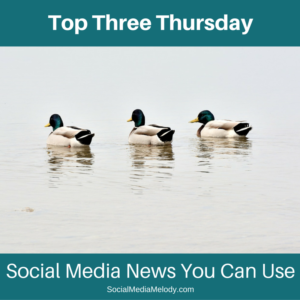 Welcome to my Thursday feature. Here's where I link three useful and interesting articles from excellent information sources all about social media and marketing subjects.
As you know, changes are always happening in the world of social media. We have a lot to keep up with!
Instagram has now added a new format for your videos and ads on the platform, vertical orientation. You can now stream your content in the same orientation as your smartphone screen, which will make your visuals easier to view to the consumer. Learn more about what this new feature offers from Instagram's recent business announcement "Vertical Ad Format Now Available on Instagram".
Company branding has long been the backbone of business. It's what makes a product or service recognizable. With recent advances in technology, branding is changing. In this Social Times article, "Brand Vs AI", they explain these changes and ways to help keep your business relevant.
Facebook now includes  a "Jobs" tab on some business pages. They noticed that companies would post about job openings on their pages, and in return developed an easy way to advertise want ads for these companies. This gives a business the ability to inform their followers of openings they have within their companies without the message getting lost in their posting feed. Workable offers a tutorial to add this new feature to your business page called, "Add a Jobs Tab to Your Facebook Page".
See you next week with another edition of Top Three Thursday: Social News You Can Use.
Melody Jones is your social media aspirin. She helps take the pain out of social media for you! Check out her services and see which one can reduce your social media pain the most.