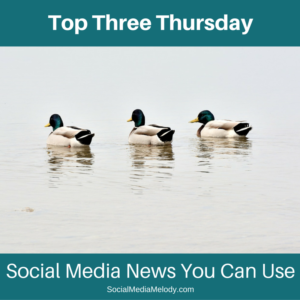 Welcome to my Thursday feature. Here's where I link three useful and interesting articles from excellent information sources all about social media and marketing subjects.
As you know, changes are always happening in the world of social media. We have a lot to keep up with!
Periscope just announced you can now share Periscope.tv  broadcasts on Facebook and Twitter. Not only can you share them, but you can also select a custom start time within the broadcast to share with others. This allows you to pass over some of the unimportant portions of the video that may not be relevant to a specific audience. Learn more from Social Times recent blog " Periscope Now Let's You Share Specific Broadcast Moments on the Web".
LinkedIn has created Audience Insights for LinkedIn users. This new feature allows professionals to see who is viewing their profile and posts. In return, it informs the user if they are reaching their desired audience and delivers a number of how many they are actually reaching. LinkedIn describes how to use this new add-on in their article "Introducing Audience Demographics: See Who You Are Reaching When You Post Content on LinkedIn".
Google is still innovating behind the scenes and has introduced a new app feature to link with your Google Photos called PhotoScan. Google posted a blog recently titled "Now Your Photos Look Better Than Ever – Even Those Dusty Old Prints". The new app is able to scan a real life photo, auto crop, and even remove glare. The photo is then saved to your Google Photos. This sound useful to you? Give us a comment below.
See you next week with another edition of Top Three Thursday: Social News You Can Use.
Melody Jones is your social media aspirin. She helps take the pain out of social media for you! Check out her services and see which one can reduce your social media pain the most.