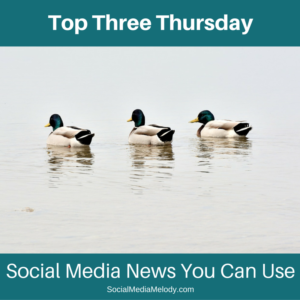 Welcome to my Thursday feature. Here's where I link three useful and interesting articles from excellent information sources all about social media and marketing subjects.
As you know, changes are always happening in the world of social media. We have a lot to keep up with!
In a new blog post from Instagram titled "New Ways to Share in the Moment", it was announced that you can now broadcast live videos on Instagram Stories as well as incorporating disappearing photos and videos for friends and groups on Instagram Direct. Love the platform? Take some time today to check out the new features and tell us how you like them.
Social Media Today published an article written by Andrew Hutchinson titled "Why Search Will be a Focus for Facebook in 2017 (and how it will Impact Marketers)". This article explains the different search features Facebook has released lately and how it will be changing the way consumer views businesses. Read more about Facebook's evolution and how it can impact your business.
According to a research study, 74% of all Internet users use social media. So, whether you strive to connect with a few customers or millions, it's time to move your marketing efforts to platforms, like Twitter, Facebook, and Snapchat. The Marketing Insider Group put together 5 Ways That User-Generated Content Amplifies Your Social Media Strategy for companies still on the fence about social.
See you next week with another edition of Top Three Thursday: Social News You Can Use.
Melody Jones is your social media aspirin. She helps take the pain out of social media for you! Check out her services and see which one can reduce your social media pain the most.