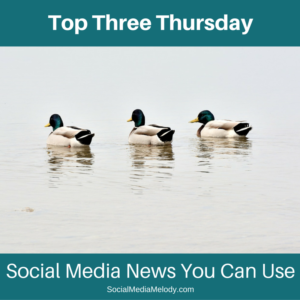 Welcome to my Thursday feature. Here's where I link three useful and interesting articles from excellent information sources all about social media and marketing subjects.
As you know, changes are always happening in the world of social media. We have a lot to keep up with!
Pinterest has revamped their business profiles and they are beautiful. In their recent announcement, "Your Big, Beautiful New Showcase", they released the details and explained the benefits of these new changes . Not only are business profiles more user friendly for customers, but they also allow the business owner to customize what is showcased and inform users of deals and sales. Just another way this platform is capitalizing on the popularity of purchasing products through the site.
Periscope has issued another iOS update for its users. Social Times provides details in their recent article "Periscope Let's Broadcasters Send Share, Follow Invitations to Viewers". This new update will allow broadcasters to invite others to watch their live broadcasts and also allow views to explore new options as well in the viewer options tab. Periscope is doing what it can to stay a contender in live video.
Twitter announced in a tweet this past week that their Moments feature that was released via desktop in September has now expanded to the mobile platform. This allows followers and businesses to share on a broader scale with their audience. Have you used Moments yet? If so, what do you think?
See you next week with another edition of Top Three Thursday: Social News You Can Use.
Melody Jones is your social media aspirin. She helps take the pain out of social media for you! Check out her services and see which one can reduce your social media pain the most.