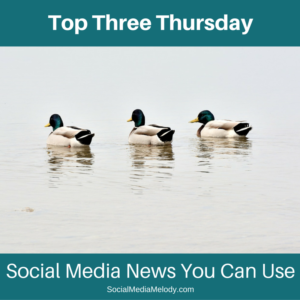 Welcome to my Thursday feature. Here's where I link three useful and interesting articles from excellent information sources all about social media and marketing subjects.
As you know, changes are always happening in the world of social media. We have a lot to keep up with!
Did you just run a shiny holiday special or campaign on your social media? Thinking about planning some more holiday promotions in 2017? The Social Media Examiner has some New Research on Holiday Specials via Social Media. Are they worth the time and effort?
There are a lot of different content options out there right now – infographics, video, articles, memes. Slideshares are quickly becoming a part of this equation. Buffer put together this 10 Best Social Media Slideshares of 2016 to Get You Ready for 2017. Love a good presentation? These are some of the best from last year.
Want to tell your brand story on Facebook but don't want to deal with the hassle of live video? Facebook is tackling this concern with the Introduction of Live Audio. Podcasters rejoice! Whether it's an interview, a review, book readings or simply a braindump – Live Audio is a great new way to broadcast your message.
See you next week with another edition of Top Three Thursday: Social News You Can Use.
Melody Jones is your social media aspirin. She helps take the pain out of social media for you! Check out her services and see which one can reduce your social media pain the most.