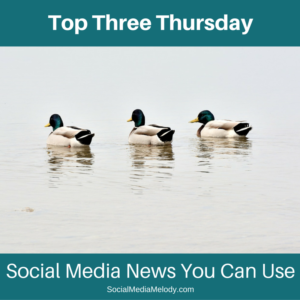 Welcome to my Thursday feature. Here's where I link three useful and interesting articles from excellent information sources all about social media and marketing subjects.
As you know, changes are always happening in the world of social media. We have a lot to keep up with!
Facebook has announced in their blog titled "Facebook Live Updates for Mentions" that they have made some changes to the format of their Mentions platform to improve the quality of Facebook live events. These new updates are designed to allow the person that is going live to plan ahead, moderate comments, view the status of their broadcast in real time, and trim their video afterwards, if desired.
Pinterest released their Pinterest 100: Top Ideas to Try in 2017. This collaborative list was created using the top saved and shared pins of 2016. The list predicts what will be the popular trends of 2017 and is a useful tool for business owners to keep in touch with their customers and their interests. Plus, it's just plain interesting to see what made the Top 100!
Twitter created a list of examples of how Fortune 500 companies chose to leverage Twitter to create positive results and accomplish goals. Adweek outlined some of these strategies in their recent blog post Success Stories from Twitter's Front Lines. These annual insights are great for planning your own social media marketing for 2017.
See you next week with another edition of Top Three Thursday: Social News You Can Use.
Melody Jones is your social media aspirin. She helps take the pain out of social media for you! Check out her services and see which one can reduce your social media pain the most.