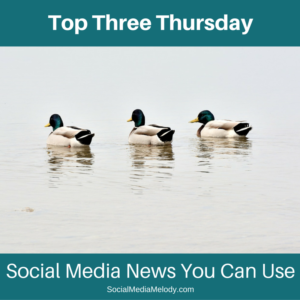 Welcome to my Thursday feature. Here's where I link three useful and interesting articles from excellent information sources all about social media and marketing subjects.
As you know, changes are always happening in the world of social media. We have a lot to keep up with!
Are you wondering how social media marketing on Instagram will change in this year?The rapid introduction of new Instagram features last year suggests businesses have more changes to look forward to in 2017. The Social Media Examiner has 8 Instagram Marketing Predictions for 2017 From the Pros to shed some insight on what might be incoming.
Believe you can make your mark on Pinterest in 2017? Tailwind, a Pinterest scheduling tool, tracked what worked best last year at this time and has complied that data to give us an idea of what pins worked best in February. Check out What to Pin to Pinterest in February to make sure your pinning strategy is on point.
Facebook founder, Mark Zuckerberg, took quite a bit of heat post election for the rampant problem of fake news on social media. In response, the popular social platform is going to prioritize authentic news using a new algorithm to identify false articles and phony sources. This Facebook blog post goes into more detail on their plan to counter this problem.
See you next week with another edition of Top Three Thursday: Social News You Can Use.
Melody Jones is your social media aspirin. She helps take the pain out of social media for you! Check out her services and see which one can reduce your social media pain the most.