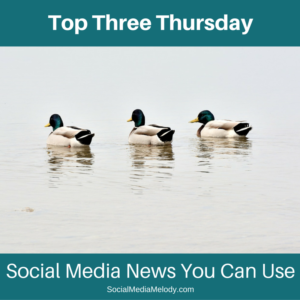 Welcome to my Thursday feature. Here's where I link three useful and interesting articles from excellent information sources all about social media and marketing subjects.
As you know, changes are always happening in the world of social media. We have a lot to keep up with!
LinkedIn has been connecting businesses and individuals since 2003. With 14 years of experience, they know how to market success. They recently released an infographic titled The Secret Sauce: How LinkedIn Uses LinkedIn for Marketing that provides the secret to their success and how you can use it for your business.
Instagram live is changing the way people advertise their business and products. In Adweek's blog "Why Instagram Live Could Be the QVC of Social Media" they explain how celebrities and businesses are leveraging this feature to increase their exposure and built profit.
Periscope recently ran an update and added a "Groups" tab to user profiles. Groups are great for staying connected with users you are interested in. To learn more about this feature, read Periscope's "What Are Groups and How Do I Use Them?" article.
See you next week with another edition of Top Three Thursday: Social News You Can Use.
Melody Jones is your social media aspirin. She helps take the pain out of social media for you! Check out her services and see which one can reduce your social media pain the most.