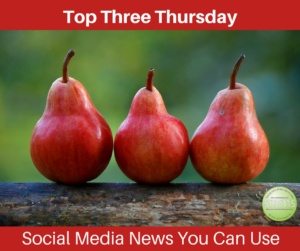 Welcome to my Thursday feature. Here's where I link three useful and interesting articles from excellent information sources all about social media and marketing subjects.
As you know, changes are always happening in the world of social media. We have a lot to keep up with!
Facebook is opening up new opportunities for companies to advertise. In a blog post titled "An Update on Video Monetization", they announced some of the changes they are making to live video and what their hopes are for the new developments. Facebook keeps investing in their push for more live video content – including this move toward monetization and ad break advertising opportunities.
Pinterest announced an expansion for their Promoted Pins in their recent blog titled "Promoted Pins come to Ireland, Australia and New Zealand". Promoted Pins will now be able to help businesses increase their online sales in more countries around the world. Advertising seems to be the name of the game in social media this year.
Snapchat recently released their Snaplytics 2016 report and it would seem they are here to stay. In AdWeek's recent article "Brands Are Experimenting With Snapchat (Report)", it is reported that Snapchat's engagement with brands and Snapchat users is the only network that did not decline last year, becoming even more popular for brand marketing.
See you next week with another edition of Top Three Thursday: Social News You Can Use.
Melody Jones is your social media aspirin. She helps take the pain out of social media for you! Check out her services and see which one can reduce your social media pain the most.