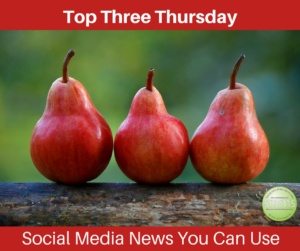 Welcome to my Thursday feature. Here's where I link three useful and interesting articles from excellent information sources all about social media and marketing subjects.
As you know, changes are always happening in the world of social media. We have a lot to keep up with!
In AdWeek's recent blog titled "How Hotels Can Fill Their Rooms Via Twitter" they highlighted 4 different marketing strategies that hotels can utilize to help boost business. They also included ways to connect with their communities and other tips that can be applied to other businesses as well.
In January Instagram announced that they would be offering ad features to the stories of 30+ businesses. They have now extended this feature to all businesses of every size around the world. Instagram goes into great detail regarding what this new opportunity offers  in their announcement  "Instagram Stories Ads- Now Available for all Businesses Globally".
Google announced two new Hangouts available for companies and businesses early this month. In their blog titled "Meet the New Hangouts" they introduce Hangout Meet and Hangout Chat. Hangout Meet is designed for video conference calls where Hangout Chat is for separate chat rooms to discuss projects and topics. Google's blog explains the two new systems in great detail and how they can serve your business.
See you next week with another edition of Top Three Thursday: Social News You Can Use.
Melody Jones is your social media aspirin. She helps take the pain out of social media for you! Check out her services and see which one can reduce your social media pain the most.