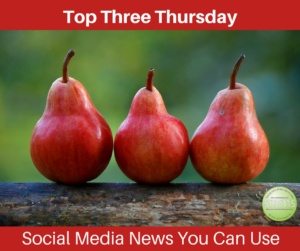 Welcome to my Thursday feature. Here's where I link three useful and interesting articles from excellent information sources all about social media and marketing subjects.
As you know, changes are always happening in the world of social media. We have a lot to keep up with!
Twitter announced in a recent blog post titled "Now on Twitter: 140 Characters for Your Replies", that Mentions (@usernames) will no longer count towards your 140 character replies. Additionally, the replies will also look different and not begin with the @username of the person you are replying to. Twitter keeps rolling out new ways to make the platform more appealing to use. I wonder what they'll change next?
In an article written by The Hollywood Reporter, they explain that Instagram Stories is taking over Snapchat Story's popularity. The article titled "Instagram Stories Surpasses Snapchat with 200 Million Users" states that in just the 8 months that Instagram Stories has been active, it has surpassed Snapchat and continues to be on the rise. Instagram Stories might be the better way to reach your audience now. Facebook owns Instagram and continues to be competitive when it comes to imitating the bells and whistles of other social media platforms.
In AdWeek's Social Pro Daily article titled "If Social Media Flunks Your Brand, Try Native Advertising", there is an eye-opening discussion about traditional advertising versus the use of social media. It goes into the benefits of shifting from social to native advertising to help promote struggling brands. This might seem counterintuitive to what everyone believes is working well in 2017, but there is some truth behind the notion that not every niche is a good fit for social media.
See you next week with another edition of Top Three Thursday: Social News You Can Use.
Melody Jones is your social media aspirin. She helps take the pain out of social media for you! Check out her services and see which one can reduce your social media pain the most.