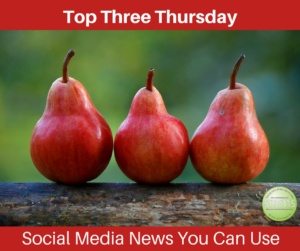 Welcome to my Thursday feature. Here's where I link three useful and interesting articles from excellent information sources all about social media and marketing subjects.
As you know, changes are always happening in the world of social media. We have a lot to keep up with!
Social advertising is really making headway as traditional methods of advertising begin to be irrelevant. Convince & Convert highlights some of the appeal in their article, The 6 Sweetest Facebook Advertising Features Right Now. Ready for some insights on creating a sweet FB ad campaign.
Who knew something as simple as a social media streak who be so motivating in retaining an audience? Well, for one, Snapchat did. This Mashable piece focuses on the devastating emotions associated with Losing a Snapstreak. What is the benefit of logging in and using Snapchat every day? Is it really as easy as displaying a streak badge?
Visual marketing and video, everyone knows that's the way to go with social media right now. However, not everyone has a good feel for where to start. Kim Garst covers 9 Visual Marketing Tools That Help Your Social Posts Stand Out on her blog. Now there's no excuse for not jumping on the branded content bandwagon!
See you next week with another edition of Top Three Thursday: Social News You Can Use.
Melody Jones is your social media aspirin. She helps take the pain out of social media for you! Check out her services and see which one can reduce your social media pain the most.