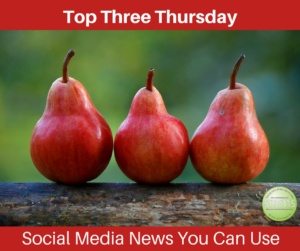 Welcome to my Thursday feature. Here's where I link three useful and interesting articles from excellent information sources all about social media and marketing subjects.
As you know, changes are always happening in the world of social media. We have a lot to keep up with!
Earlier this year Pinterest introduced a new feature called "Pinterest Propel". In  "Introducing Pinterest Propel for Successful Advertising" they outline what this new feature offers and how it can propel advertisers forward to stand out among their users. This service is really for businesses that have figured out how to leverage Pinterest to expand their bottom line but still want to increase their Pinterest ROI.
Twitter has introduced a new aspect to their brand called Twitter Kit. Twitter Kit is designed for advanced Twitter users looking to get even more out of their tweeting experience. In their recent blog post titled "Introducing Twitter Kit 3" they outline the benefits and feature by provided from this new service. This kit is for users that enjoy customizing their features to optimize their overall experience.
Periscope has begun to expand their reach further between social media platforms. In Adweek's recent blog titled, " Periscope Users Can Now Connect To Their Facebook and Google Accounts" they explain how this change arose and what the opportunities it has opened up. Will this make Periscope a more viable option for live video on social media? Time will tell.
See you next week with another edition of Top Three Thursday: Social News You Can Use.
Melody Jones is your social media aspirin. She helps take the pain out of social media for you! Check out her services and see which one can reduce your social media pain the most.