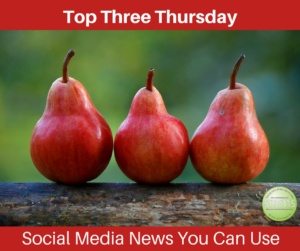 Welcome to my Thursday feature. Here's where I link three useful and interesting articles from excellent information sources all about social media and marketing subjects.
As you know, changes are always happening in the world of social media. We have a lot to keep up with!
Twitter has new enhancements and Carolina Leon from Sprout Social is giving us the lowdown in  "Streamline Conversations With the New Twitter Contact View & Real-Time Direct Messaging." She shows us how to use the new toolset to build lasting relationships and enhance customer service. Definitely, check it out!

Images and videos are a compelling way to share your message. Instagram rolled out a new feature that takes advantage of that truth. David Cohen from Adweek fills us in on how "Photos and Videos Can Now Be Used in Replies to Instagram Stories." It even lets you use any of the creative tools in the camera like face filters, stickers, and rewind. You should definitely give this a try!
Have you been wondering whether or not the video marketing trend is right for you? Animoto recently released a report that might surprise you. Donna Moritz of Socially Sorted breaks down "10 Social Video Statistics That Will Make You Rethink Video." She highlights several key points that can make your video creation easier. If you're a visual person, the infographic alone is worth the check. Will you be using videos in your next social interaction?
See you next week with another edition of Top Three Thursday: Social News You Can Use.
Melody Jones is your social media aspirin. She helps take the pain out of social media for you! Check out her services and see which one can reduce your social media pain the most.