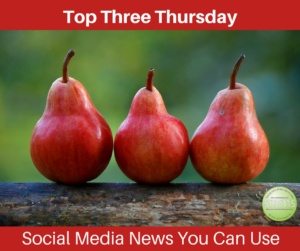 Welcome to my Thursday feature. Here's where I link three useful and interesting articles from excellent information sources all about social media and marketing subjects.
As you know, changes are always happening in the world of social media. We have a lot to keep up with!
Facebook doesn't seem to be abandoning its Groups feature at all. This week the social media giant opened up Groups for Pages, accessible to all Pages around the world. It can be a great way to bring together groups of followers or fans. Check out the announcement and some thoughts in Social Media Today's article, "Facebook Announces That all Pages Can Now Create Linked Groups."
Pinterest is a great spot for promoting a bit of girl power! Here are some tips from Peg Fitzpatrick on how to build Powerful Pinterest Boards to Fuel Your Inner Girl Boss. It's a great social platform for establishing your visual brand. Get creative while making an impact!
The benefits to social advertising have many businesses exploring the impact this investment can make. While this form of marketing is still fairly easy on the budget, there are tips you can utilize to save even more money. Check out this HootSuite article featuring the 6 Tips for Lowering the CPC of Your Facebook Ads.
See you next week with another edition of Top Three Thursday: Social News You Can Use.
Melody Jones is your social media aspirin. She helps take the pain out of social media for you! Check out her services and see which one can reduce your social media pain the most.