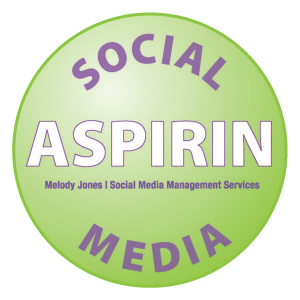 Tired of trying to keep up with the never-ending changes in social media? Wishing you had your life back instead of spending all that time on social media?
I know the right prescription. I'm a purveyor of social media aspirin, here to take your pain away. How can I help you?
Do-It-For-You Services for Small Business Owners, Solopreneurs, Authors, and Creatives
All programs are 6-month programs and include the following comprehensive services.
Create profiles/pages if needed – add photos, bio, web links
Research and become knowledgeable about client's industry, area of expertise, and business; for authors, read their book(s)
Seek, curate, schedule and post consistently to each platform with an eye toward what works best for each one – they all have different languages and "rules"
Manage each profile – identify and delete spam, friend and follow people, check for and respond to comments and messages, alert client when personal attention is needed, engage fans in conversation to build relationships
Provide peace of mind!
Payment plans available
Choose between these six social media platforms:
Facebook, Google+, Twitter, Pinterest, LinkedIn, and Instagram
Contact me today to discuss your social media needs and to get pricing for any program listed below. Click the option that says "I would like a free 20-minute Discovery Session to discuss my social media needs" at this link.
Program 1: Get Moving Now
Two platforms of your choice
Facebook: 3 posts/week
Google+: 3 posts/week
Twitter: 15 tweets/week
LinkedIn: 2 posts/week
Pinterest: 10 pins and repins/week
Instagram: 2 posts/week
Program 2: Intensify and Amplify
Three platforms of your choice
Facebook: 4 posts/week
Google+: 4 posts/week
Twitter: 20 tweets/week
LinkedIn: 3 posts/week
Pinterest: 15 pins and repins/week
Instagram: 3 posts/week
Program 3: Full Throttle
Four platforms of your choice
Facebook: 5 posts/week
Google+: 4 posts/week
Twitter: 25 tweets/week
LinkedIn: 3 posts/week
Pinterest: 20 pins and repins/week
Instagram: 5 posts/week
Social Media Coaching, Mentoring and Instruction
Social Media Retreats
Social Media Retreats is on a mission to help you relax into social media. We are the anti-boot camp!
If you're feeling:
Overwhelmed by all there is to know about social media
Tired of trying to keep up with the newest, latest, and greatest in social media
Like you never have time to really let new learning sink in
Confused on how to develop and implement your social media strategy
You're in the right place.
These are live, in-person events currently hosted in Colorado.
Instead of hitting you hard with a crushing amount of information for hours a day in a boot camp atmosphere, Social Media Retreats provides an environment of relaxation, cohesion, and connection where entrepreneurs, authors and writers, creatives, and small business owners can truly embrace the concepts and tactics of social media success.
All retreats are small, averaging 5-15 participants, allowing for a more intimate learning environment. Attendees have time to fully learn, discuss and integrate new knowledge into a strategic plan for moving forward with social media marketing.
New retreats are being developed for 2018. To learn more, please click here.
Individual Coaching
As a stand-alone service, individual social media coaching and mentoring is a per-hour investment for you and your business. I coach by phone, GoToMeeting or possibly in person.*
One hour investment: $147
Three-hour investment: $125 per hour, paid in full prior to first session
*If you are in the Denver Metro area, I may be able to provide in-person coaching. Travel is an additional $10. Contact me for details.
Group Workshops and Conference Presentations
I customize social media instruction for group workshops.  I am also available for conference presentations on nearly any social media-related subject, and can customize to suit your audience.
Please check out my speaker topics tab for more information.
A few groups I've presented to: Ghost Writers Conference,  Colorado Gold Conference (Rocky Mountain Fiction Writers), Social Media Success Retreat for Writers and Authors, Social Media Day Denver,  The Southlands Business Team, The National League of American Pen Women, Heart of Denver Romance Writers, Denver Startup Week, Parker Chamber of Commerce Young Professionals Group, Boulder Writers Alliance, Creating "Buzz" in Social Media for Social Connections, Upper Midwest Social Media Conference, Author University, Leadership Douglas County, and the Rocky Mountain Chapter Society of Children's Book Writers, and Illustrators.
Contact me today for your complimentary Discovery Session where we drill down to exactly what you need and develop a coaching plan or personalize a social media program just for you.